Nendaz-Vente Immobilier Real estate agency in nendaz, buy and sell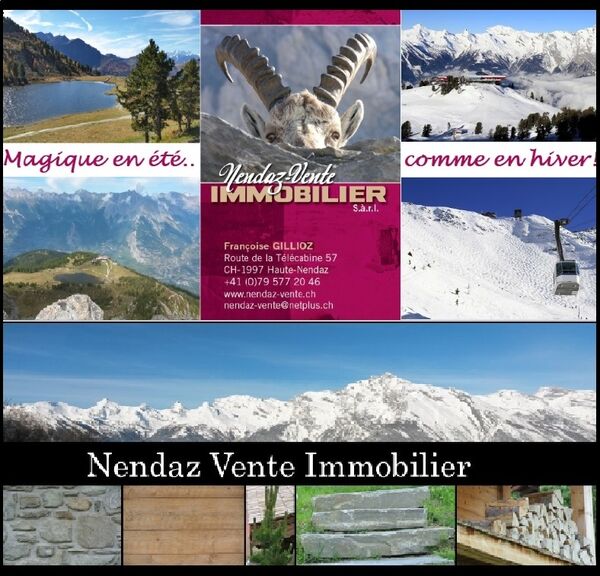 Nendaz-Vente Immobilier is an agency which states its preference for a quality welcome and conviviality.
Nendaz-Vente Immobilier: a specialized agency, for more than 15 years, which privileges reception and conviviality! You are looking to buy or sell a chalet, an apartment, a studio, a barn, a hotel or a plot of land, do not hesitate to contact us. We are looking for properties for sale or to buy in Nendaz and the surrounding area as well as properties for our year-round or seasonal rental service.

We are a company that loves challenges, we can help you in the renovation of your apartment or chalet, in the choice of materials, collaboration with companies, application for additional credit... everything you need: Nendaz-Vente Immobilier helps you to realize your dreams. You can discover our renovations and constructions and looking for the chalets mayen du Bleusy, chalet la Tena and chalet de Beuson. »

We work with local craftsmen: quality is indeed paramount for our company and we think, that mutual trust between the different people is essential for a successful realization.

Why entrust your property to our real estate agency?
Because Nendaz-Vente Immobilier …
... is a real estate agency that knows perfectly the Nendaz valley and its inhabitants;
... has known the local market for more than 15 years;
... loves his region and its values;
... is an Agency with which you will have a genuine and reciprocal relationship;
... puts its experience, know-how and discretion at your service;
... follows you all along the way to ensure the smooth running of the transactions;
... has a regularly updated website, with targeted ads and publicity;
... listens to you, reassures you and guides you.

And for PURCHASE - SALE:
- Real estate taxation (on request simple taxation or full taxation)
- creation and follow-up of the file from the beginning to the end
- commercial promotion of various goods
- property visits and in-depth discussions
- follow-up of the real estate transaction

Do not hesitate to make your request either directly to our Agency or by e-mail or telephone. We look forward to hearing from you!


Nendaz-Vente Immobilier ...Your trusted agency.

Situated in the charming ski resort of Nendaz and next to the starting point of the cable car, the agency Nendaz-Vente Immobilier Sàrl greet clients in a cosy and warm setting, where you should take the time to linger over a discussion in company of the warm-hearted and likeable director Françoise Gillioz; and Jonathan Charbonnet (draftsman building).
Since 2006 Nendaz-Vente Immobilier is actively engaged in buying and selling apartments, chalets, villa, turnkey project as well as in the location for the week, saison or year of chalet or apartment.
Furthermore we handle some promotions (property development) of apartments and chalets in either main residence (Beuson, Bleusy) or secondary residence (Bleusy, Bermouche, Les Djiettes, les Clèves, les Ries, Tena).
We manage besides Novelly SA, a society which is not only responsible for a part of the parking place in Siviez, but also for the location of apartment in Siviez (week or saison).
Nendaz-Vente Immobilier Sàrl stand also at your disposal for the insurance of building construction, personal liability insurance and household contents insurance.
Personalized advice and support of the client from the information gathering, through the search for real estate and visits, until the sale ; appointment with your our specialized partners (Bank, notary, fiduciary, insurance broker, geologist, geometer, architect, engineer, and if necessary : commune of Nendaz, Canton of Valais or Forest service) : Everything can be organized by us, just for you !
It is extremely important for us to establish a trustworthy relation with customers. Here you will feel that you're fully heard and that we consider your needs.
For our part, you can rest assured that we will do all that we can to look after the real estate which will fulfil your expectations !
With Nendaz-Vente Immobilier, together, we make your dreams become a reality !
Contact